Olympus & Skyline High Schools


CLASS OF 1963
55th Welcome Picnic Singers
Welcome Picnic (8/10/18: 6 p.m. to ) Food and Song:
Apart from light, tasty food and cooling refreshments, minstrels Bob Poulton, Dennis Holm, Jim Snow, Gary Nielsen and, with luck, Dwight Osborn will "serenade" us as they wander the grounds at the Giauque home at 2420 Karren Street (once the home of classmates Robin Locke and, later, Doug Bagley), a block or so south of Olympus High School. No doubt they will provoke impromtu sing-alongs.
Although they need no introductions, below are updates from the singers in their own words.
The musical adventures of Bob Poulton
"Moved to Wayne County in 1997 from Summit County, Utah. In Wayne County, I met Dudley Elliot, a cowboy and good guy. I began riding with Dudley and other Cowboys regularly, mostly gathering and tending cows on the mountain and the desert. Dudley is a very good guitar player, and after a day of work, and dinner done, he would get his guitar from his Sheep Camp and play cowboy tunes. I began bringing along my harmonica and would sometimes play along with Dudley. I hadn't been interested in music for many years, but Dudley's tunes inspired me. I set up my own little trio, me and my two dogs, Boomer and Rex. The dogs howled harmony and I played the harmonica, mostly mormon tunes. We played for dudes when I'd wrangle horses for backcountry trips with a local outfitter. Rex died and Boomer wouldn't "sing" anymore so that was the end of the trio and the good tips. So, I found me a concertina and learned to play it tolerably well, A few of us in the county formed an "orchestra" since Wayne county was lacking an orchestra. We began meeting every Thursday at someone's house to practice. We had one feller in the orchestra who could actually play a guitar, the rest of us couldn't play a lick (Dudley stayed away because we were embarrassing). We all chose an instrument, mine was my recent purchase, the concertina. The original group still meets every Thursday for practice. I'm a member of an off-shoot group and we call ourselves "The Mooney Wash Boys", although we have two female members the band's bass player and a mandolin/banjo player. Mooney Wash is above Torrey Town and is where the whiskey stills were in the old days. Our little band plays every Saturday at the Torrey Farmer's Market; we busk for tips that will go to the Wayne High School FFA (Future Farmers of America). My job with our little band is fiddle player. I took up the fiddle after I had turned 65; I was warned not to. I've never listened to good advice. I'm able to make a hell of a racket; our goat herd seems to enjoy my noise. I cannot be responsible for hearing loss or neurological disturbances that you might say was because of me and my fiddle. My my standard disclaimer "I'm not much good at this god damned thing".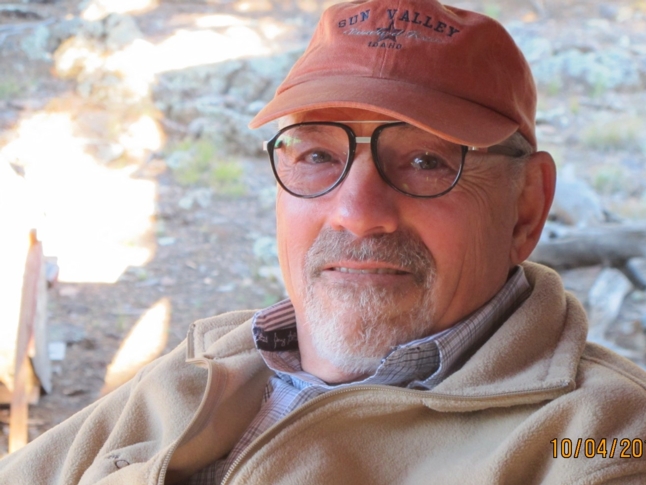 On the other hand, Dennis Holm (left) recalls his encounters with Bob Poulton this way
"Bob and I first met during our confinement at Mr. Woodger's sixth grade concentration camp at Sherman School. Often, when I went over to Bob's to hang out, I would have to wait while he finished his piano practice. The piano never stuck with Bob [but he was a reasonably accomplished pianist in sixth grade], however music theory did.
"Bob's interest in music came to life around 1998 when he moved to Torrey, Utah and became a cowboy, farmer, and lover of Old Time Music. He started playing the guitar, concertina, and mandolin. He has since settled with the fiddle and banjo. Bob plays in a local group known as the Mooney Wash Boys. Their group has successfully raised funds for several local projects, namely the Color Country Animal Rescue and the Future Farmers of America.
"At the end of ninth grade my brother and his friends came to our home. One of his friends had a Martin Guitar and played Three Jolly Coachmen and Ole,Ole, and Ann.He said these songs came from a group know as The Kingston Trio and put on a record of their performance at the Hungry i, in San Francisco. Then came Peter, Paul, and Mary. I became a true believer in the power of protest songs that reflected on the tragedies of war, civil rights, and the pain of losing a loved one. I was hooked!
"I often play with the Mooney Wash Boys when I'm in Torrey."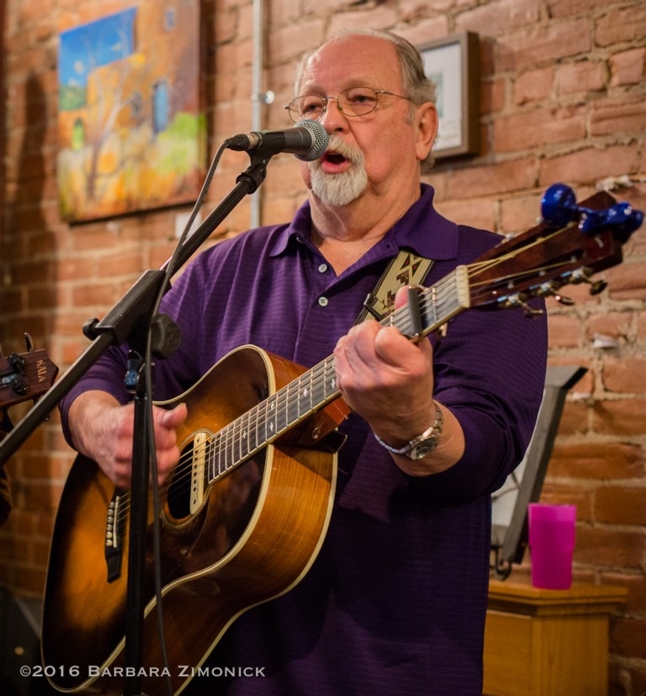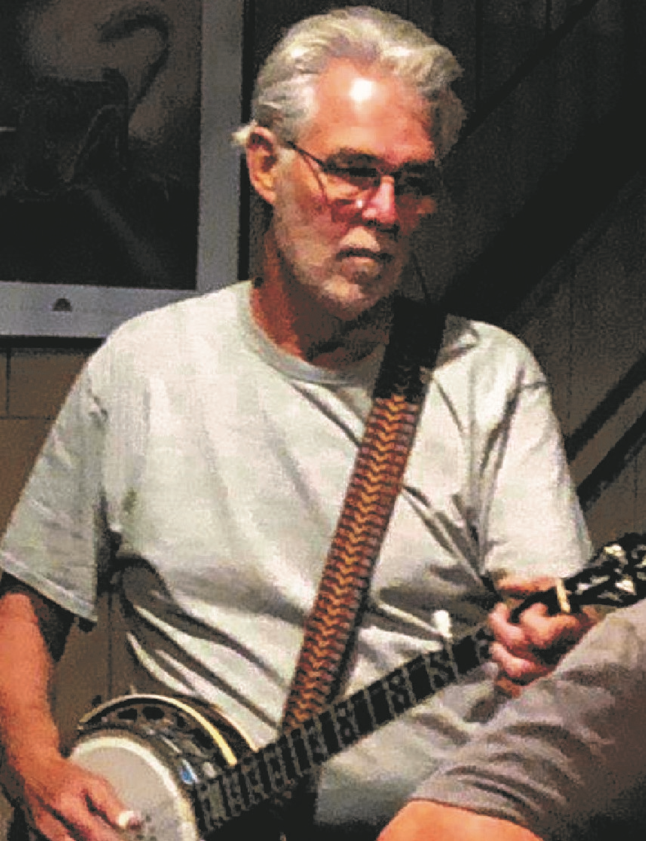 The ageless Jim Snow, with more hair on his head than his chin, got his banjo-pickin start with fellow Titans Gary Nielsen (right) and the late Tom Florence .
Jim recalls: "Following Graduation, Gary Nielsen and I started at the University of Utah the next fall. We continued to play music together (mostly folk) but began branching out into other genres. In those days we were playing with the likes of Roger Sanderson, Chris Smith and Tom Drury. Gary left the state around 1970 and I continued to play with other local musicians eventually teaming up with George English as a duo. In 1971 I began to get involved more with bluegrass music. I graduated from the "U" in 1972 and went to work for David W. Evans, Inc. a Salt Lake ad agency. During this time I started to sit in with Glen Norman's country/western band.
"In 1983 I moved to San Diego to accept a job in international marketing. Since I was new to the area and my work required a great deal of travel, I made very few connections with local musicians. I retired in 2011 and began to circulate in the local San Diego music scene. I have played with Jeff Lee, James Gosset, Jerry Gontang, and others. I currently sit in two or three times a month with Jerry's Trop Rock band, Stars on the Water. The band covers Jimmy Buffet, Eagles, Grateful Dead, Simon & Garfunkel and others, as well as some original material."

And, Gary Nielsen adds:
"Back in high school days Jim Snow, Tom Florence and I formed a folk trio . . . following in the footsteps of our musical heroes, The Kingston Trio. This was our first musical venture and it left a lasting impression on all of us. I moved away from SLC and as the years went by I made other attachments with musicians and continue to this day to play and perform in a four piece band. My repertoire has shifted from folk music to more swing, jazz and original tunes. I still have a soft spot for the old folk songs though and look forward to re-uniting with Jim and playing some the tunes we played way back when."
And, stay tuned for introductions to the top-drawer entertainers for for the Reunion Reception and Dinner, Saturdayt night, August 11, from 6 p.m. on at The Cottonwood Club.
Soooooo....,if you have not yet registered for the 55th, please do it right now. The registration form can be found here and can be printed-out on your printer (use "print" command or simultaneously strike the "Ctrl"+ "P" keys on you're the keyboard of your computer). If you encounter difficulties printing the form, let us know and we'll send you a paper copy by regular mail. Send the completed form along with your check ($40 for each participant) to:
Olympus Skyline Class of 1963
P.O. Box 712013
Salt Lake City, UT 84171
Important Reminders:
1) The $40 per person flat fee is all-inclusive. As it has been for the the past 15 years, one fee covers all the reunion events you choose to join (golf excluded), whether its one or all four: the Friday night "Welcome Picnic," and informal "After Hours" gathering at The Marriott University Park; or Saturday evening's reception and dinner at The Cottonwood Club.
2) You must be registered to attend any 55th Reunion Event. Your name tag, available at the registration table Friday and Saturday night, is your ticket to all events.
3) Reunion fees will not be used to underwite the costs of alcoholic libations available at the Friday's "Welcome Picnic" or the informal "After Hours" gathering later that evening. Private contributors are footing the bill.