Olympus & Skyline High Schools


CLASS OF 1963
In Memory
Michael Ruth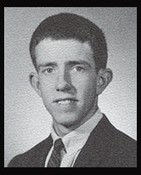 R. Michael Ruth ... 01/27/2002
The Salt Lake Tribune
Date: 01/27/2002 Edition: Final Section: Utah
Page: B7


R. Michael Ruth, 57, a longtime resident of Oakland,CA and formerly of Salt Lake City, passed away at his home on Jan 9, 2002 surrounded by family and friends.
He was born on Sept 23, 1944 in Milford, Utah to R. H. (Babe) and Meriam Steele Ruth. He attended Salt Lake City schools, graduating from Olympus High.
He served in the Peace Corps in India in the 60s. He graduated from the U of Wisconsin, and received his graduate degree from U of California at Berkeley. He was a gemologist, and for over 25 years, ran his own wholesale business out of an office in San Francisco. He had many business acquaintances in Salt Lake, as
well as other parts of the world.
As a lover of Jazz, he proudly shared a birthday with John Coltrane. He was an avid reader of history and poetry who loved fishing, writing, and the Oakland A's.Throughout his life, Michael had a special love for young people and was always there as their friend andsupport. Michael returned often to visit his family inSalt Lake, spending quality time with cherished nieces and nephews.
He will be missed by the many friends and relatives who loved him, including his wife, Sandra Tosto Ruth; and three children, Nicholas Ruth, Kristen Carlbon, Jennifer Carlbon Wood, and his son-in-law,Corey Wood. Also survived by a sister, Robin Harden, brother, Robert Babe Ruth both of Salt Lake; a brother, William Felt of Aumswille, OR; and his father, R. H.Ruth, of Port Angeles, WA.In his own words, "His greatest accomplishment is his son, Nick."

Services were held in Oakland, CA. Contributions may be made in Michael's name to the Young Musician's Program, 19 Morrison # 1204, U of California, Berkeley,
CA 94720-1204.