Olympus & Skyline High Schools


CLASS OF 1963
In Memory
Kim Georgeson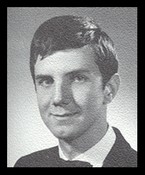 KIMON G. GEORGESON ... 12/07/1997
Salt Lake Tribune
Types:
Utah
Published:
12/07/1997
Page:
B8
Keywords:
Obituaries
Kimon G. Georgeson
Kimon died November 30, 1997 of complications from Marfan Syndrome.
He was born November 11, 1944 in Salt Lake City to George A. and Demetra Reese Georgeson. Kimon attended Reed College and graduated from the University of Utah, Magna Cum Laude. He did his post-graduate work at The New School of Social Research in New York City. Kimon pursued his life long work as an artist in New York City, recently returning to Salt Lake City.
Survived by his sisters, Aglaia Fox (Lawrence) and Nike Georgeson; nephews, Mark (Katie) Fox and Brian (Erin) Fox. Preceded in death by his parents.
Memorial services will be held on Monday, December 8, 1997 at Evans and Early Mortuary, 574 E. First South, Salt Lake City. Those wishing to, may make donations to the Humane Society of Utah or the Utah Aids Foundation.
"A more loving and kind brother and friend could not have graced this earth."