Olympus & Skyline High Schools


CLASS OF 1963
In Memory
Teena Tuttle (Sorensen)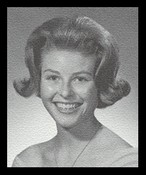 Teena Tuttle Sorensen November 27, 1992
Teena Tuttle Sorensen, age 47, died on Friday, November 27, 1992, at her home in Salt Lake City following a prolonged illness incident to Hodgkin's Disease.
Teena was born on February 11, 1945 in Salt Lake City, Utah, a daughter of Blaine L. and Beth H. Tuttle. She married Dr. Sherman G. Sorensen December 14, 1967. She graduated Magna Cum Laude and was Valedictorian from Brigham Young University College of Nursing and received a Master's Degree in Psychiatric Nursing from New York University. She was working on her doctorate in psychiatric nursing at the University of Utah College of Nursing at the time of her death.
Teena was a public health nurse for the Salt Lake County Health department, a psychiatric nurse at Payne Whitney Hospital in New York City, a faculty member of Cornell University College of Nursing in New York City, director of In-patient Care in Seattle Children's Home, Seattle, Washington, a consultant at Intermountain Sexual Abuse Treatment Center, and in private practice as a psychiatric nurse-therapist for children. She was a member of the Board of Directors of Network Against Child Abuse and a member of the Utah State Task Force on Child Abuse. Teena published several papers in the field of child abuse.
Teena was a kind and loving mother, wife and friend. She lived an accomplished, rewarding, and fulfilling life. Teena was an inspiration to all who knew her and exhibited immense love, courage, and strength during her prolonged illness. Teena was grateful for the care she received from the physicians and nursing staff at LDS Hospital.
She is survived by her husband, Dr. Sherman G. Sorensen; her two loving children, Andrea Sorensen and Erik Sorensen; her sister, Carolyn Tuttle Banner; and her brother, James B. Tuttle. She was preceded in death by her parents, Blaine and Beth Tuttle.
Teena dedicated her professional life to children, their rights, their protection and their treatment. In lieu of flowers the family suggests contributions to be made to Network Against Child Abuse, 1800 So. West Temple, Salt Lake City.
Funeral services will b e held Monday, November 30, 192, 11 a.m. at Wasatch Lawn Mortuary, 3401 So. Highland Drive, Salt Lake City.