Olympus & Skyline High Schools


CLASS OF 1963
In Memory
Stephen Amott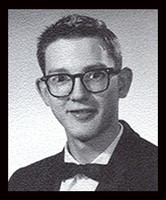 Salt Lake Tribune February 12, 1983 C-6
Stephen Amott
Charles Stephen Amott, age 37, died February 9, 1983. He was born on September 22, 1945, in Sacramento, California, to Charles Lanier and Hellen Stringham Amott. He was a member of the LDS Church.
Stephen was a graduate of Olympus High School. He was a veteran of the Vietnam Conflict and a member in the United States Marine Corps. He was awarded numerous medals including Vietnam Cross of Gallantry (w/palm), bronze star (with valor).
Stephen was survived by his brother, Michael L., Holladay; his nephews Jason L. Amott, Cory D. Knapton, Bryce W. Knapton, all of Holladay; his niece Rhea Ann Knapton; Salt Lake City; and numerous aunts, uncles and cousins. Graveside services will be Monday, 11:00 a.m. at the Salt Lake City Cemetery. Friends may call at the Jenkins-Soffe Mortuary, 4760 South State, Sunday, 6:00 – 8:00 pm and Monday, 10:00 – 10:30 am.