Olympus & Skyline High Schools


CLASS OF 1963
In Memory
Edwin Coombs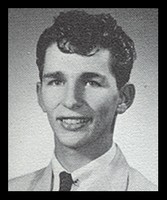 Salt Lake Tribune July 20, 1987

Edwin Mark Coombs

MURRAY- Edwin Mark Coombs, 42, passed away July 18, 1987 in a Murray hospital of heart failure.

Born November 25, 1944 in Salt Lake City to Norman W. and Lydia Astin Coombs. Married Annick Johnson; later divorced; Married Sharon Hogan Harper June 4, 1982, Las Vegas. He was a veteran of the Viet Nam Conflict. Employed as a Salt Lake City Fireman. Was the safety and security director of Harper Excavating. Member of the Benefit Association , Salt Lake County Fire Department. Member VFW. Avid Golfer. He was loved by all who knew him. Enjoyed working and associating with people.

Survivors: beloved wife Sharon, Murray; son, Anthony (Tony); daughter, Stephanie Coombs, both Salt Lake City; step-sons James (Jim) Harold Harper; Rulon Jerry Harper, both Murray; brothers and sisters, Wendell D., Murray; Gilbert N.; Michael P., Mrs. Gregg (Mary) Meyers; all Salt Lake City; David G.; Mrs. Douglas (Barbara) Morgan; Norma Dunham, all West Valley City; Mrs. Gary (Ruth) Goodrick, Rockford, Ill.

Funeral services Tuesday, 12 noon, Murray 15th Ward, 5555 South 700 West. Friends may call Jenkins-Soffe Mortuary, 7 – 9 pm and Tues, at the church, one hour prior to services. Internment, Murray City Cemetery.