Olympus & Skyline High Schools


CLASS OF 1963
In Memory
Penny Marie Cowan (Redmund) VIEW PROFILE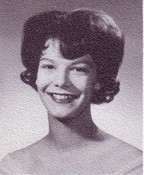 Penny Marie Cowan Redmund
Penny Redmund 1945 to 2010
Our beloved mother, Penny Marie Cowan Redmund, 65, returned home November 28, 2010 in West Valley, Utah. She was born September 27, 1945 in Salt Lake City, Utah, daughter of Jack Clifford and Esther Lester Carlston Cowan. She married David L. Redmund October 4, 1968; later divorced. She was a member of the LDS Church.
Penny loved working with special needs students and drove a school bus for the Granite School District for over twenty years. She enjoyed spending time with her grandchildren. She was multi-talented in such things as sewing, cooking, and playing the organ. Penny always welcomed you with open arms and a hug. She was always accepting of everyone she met.
Penny is survived by her children: Annette Redmund (Carolyn), West Valley City; Anna Marie (Paul) Randall, West Jordan; David L. (Deana) Redmund, Jr. Grantsville; and Elizabeth L. R. (Justin) Bills, Kearns. Penny leaves 11 grandchildren and six great-grandchildren. She is survived by her father, her brothers Jack (Vickie) Cowan Jr., Joe (Davika) Cowan, George Cowan and her sister, Deanna (Cal) Hansen. She is preceded in death by her husband and mother.
Funeral services will be held Friday, December 3, 2010, 12:00 noon at McDougall Funeral Home, 4330 South Redwood Road where viewings will be held Thursday, 6 – 8 p.m. and Friday, 11 -11:45 a.m. She will be interred at Elysian Burial Gardens.
Published in the Deseret News December 1, 2010
Click here to see Penny Marie's last Profile entry.