Olympus & Skyline High Schools


CLASS OF 1963
In Memory
Craig Forsey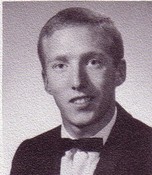 James "Craig" Forsey slipped peacefully into Eternity on June 13, 2010. He was born on June 24, 1944 in Danville, Kentucky to Harry Frank Forsey and Norma Kunz Forsey. Mr. Forsey served in the Utah National Guard where he was a Captain. He worked as a manufacturer's representative to the furniture industry for over forty years.

Craig's beautiful life and his magnificent legacy will live on through the lives of his children Stephanie Anne Gelfeld and Carrie Lyn Arsenault and his four grandchildren, Mason James Arsenault, Alyssa Mary Anne Arsenault, Joshua Dylan Gelfeld and another granddaughter on the way.

Craig is also survived by his mother Norma Kunz Forsey, his sister Lyn Forsey Bishop and his brother Stephen Brent Forsey.
Memorial services will be held at Weed-Corley-Fish Funeral Home located at 3125 N. Lamar Blvd., at 2:00 p.m. on Saturday, July 31, 2010.
In lieu of flowers, donations may be made in Craig's name to the Ignite a Dream Foundation at 5918 W. Courtyard Dr., Ste 500, Austin, TX 78730 or donate on-line via their website at www.igniteadream.com. All donations are tax deductible.