Olympus & Skyline High Schools


CLASS OF 1963
In Memory
Cathleen Epperson Jensen (Skyline)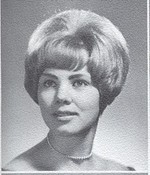 Cathleen Epperson (Cathi) Jensen
Cathleen (Cathi) Epperson Jensen 1945 ~ 2009 Cathleen (Cathi) Epperson
Jensen, devoted mother, loving daughter, admired sister,
passionate dog lover, and loyal friend, passed away on Wednesday,
January 14th after a long and courageous battle with Multiple
Sclerosis. Her memorial service will be held on Monday, January
19 at 11 a.m. at Washington Park United Methodist Church at 1955
E. Arizona Ave. Cathi was born September 18, 1945 in Salt Lake
City, the first child of Miles and Mary Lou Epperson. Precocious
and vibrant, Cathi quickly developed life-long passions for
learning, music, and politics. Academically, she skipped the
second grade and graduated near the top of the inaugural class
from Skyline High School at 17. Musically, she became an
accomplished pianist, performing at family parties and playing
duets with her mother, father, and cousins. Politically, she was
the proud descendant of the Black family legacy in the Salt Lake
City Democratic Party. Her ambition and charisma were displayed
when Cathi joined the campaign of US Representative Dave King.
Upon his successful election in 1964, Cathi was invited to join
his staff in Washington D.C. and later went on to work on the
campaigns and staffs of US Representative Ken Monfort. During the
King campaign she met a young law student Jerry Jensen, whom she
married in March of 1966. After several years living and working
on Capitol Hill the couple settled in Denver in the summer of
1967. Cathi soon became the Publicity and Special Events Director
for the Denver Dry Goods Company, beginning a long career as a
successful businesswoman. Following the births of her children,
Jackie in 1970, and Jon in 1972, Cathi was among the first
generation of woman balancing the difficult task of leading both
at home and at the office. Cathi started her real estate career
in 1971 and made a fast accession due to her boundless energy and
ebullient personality. By the end of the decade she had risen to
be a Vice President and Regional Manager at Grubb & Ellis. She
transitioned from residential to commercial real estate in 1981
when she joined Fuller & Company and was a member of their
"Million Dollar Club" within two years. It was at Fuller that
Cathi met and married her second husband, John Bitzer, in 1983
later divorced. By the mid 1980's, the onset MS, which she
defiantly fought throughout her adult life, became more
pronounced. Cathi accepted the challenge, participating with the
Jimmy Huega Center and becoming an advocate for persons with
disabilities. In her later years, Cathi remained adamantly
independent far beyond what was medically advisable, well in
keeping with her indomitable approach to life. She was blessed to
have the support of many dedicated caretakers, and the capable
oversight of the Total Longterm Care program. Cathi was also
constantly comforted by her three beloved companions, Freddie,
Barnie, and Bam-Bam, her Westie terriers. Caring and loving to
all, an inspiration to her family and friends, and a shining
spirit to whoever came in contact with her, Cathi will be missed
beyond what words can express. She will forever live on in our
hearts, memories, and deeds. Cathi was preceded in death by her
father, Miles. She is survived by her mother, Mary Lou; her
daughter and granddaughter, Jackie and Haley; her son and his
wife, Jon and Amy; her brothers, Randy (Sue), Mike (Joyce),
sister Sherri, and many other relatives. In lieu of flowers
please send donations to the Cathleen Jensen Memorial Fund, 440
S. Corona St., Denver, CO 80209. Please share memories at
cathleenjensen.org
Cathleen Epperson Jensen

The following was compiled from thoughts submitted by JoLee Black Heaton, Cathi's cousin and a member of our class.
It was fitting that Cathi (Epperson Jensen), my dear cousin, was laid to rest just hours before Barack Hussein Obama was sworn as the 44th President of the United States, the first African-American Commander-in-Chief. She was passionate about politics generally, Democratic politics specifically, like virtually all members of the Black family.
When her daughter called me to tell me that Cathi had passed way, I could not help but conjure images of the joyous reunion with our grandfather Parnell and my dad (both of whom were chairmen of the Democratic Party in Utah) as they all got ready to witness, if such things are possible, the historic inauguration on earth
Technically, she was a first cousin. In reality, she was more like a sister, an older sister it often seemed, although, on paper that distinction belonged to me. From the very beginning of our lives together, it seemed that whatever Cathi set out to do, she accomplished it, and then some. The only thing she couldn't beat was Multiple Sclerosis, the disease that took from us. But even as M.S. crippled and destroyed her body, it could not diminish her beauty, her disarming, engaging smile. Her positive outlook.
At the funeral, her children shared a wonderful slide show of her life. There she was in her wheelchair, no makeup, balancing a granddaughter in her lap, her gorgeous daughter at her side. Three generations of Cathi—all beautiful, happy and eager to engage in all that life has to offer.
In mortality, Cathi was an awesome cousin, an inspiration to me and many others. Her example lives on.
January 24, 2009

Cathi was a very special lady. I was lucky enough to know her in my Jr. and High school years. She will always have a special place in my heart.

January 19, 2009

I met Cathi in the 6th Grade at Morningside Heights Elementary. We shared a friendship for many years,
growing up in the same neighborhood and attending the same schools until our graduation from Skyline High School in 1963.

We lost contact over our adult years but Cathi will always have a place in my heart. She was a very special person.

~

Jim Hilton,

St. George,, Utah

January 19, 2009

Cathi "fast fingers" Epperson was the only typing competition the famous Bee had at Wasatch Jr. High. She lived across the street from Craig Brown, so our paths would cross now and then--especially when she was dating my fellow left fielder at the
American Legion Baseball games. Lots of memories as we had the same algebra class with Craig Taylor where Cathi wanted us to attend Utah Band Stand--as none of us had a tie, this adventure was passed. I last ran into Cathi just before her March wedding in 1966, which I missed because of a baseball road trip. She was looking forward to Washington
D.C. and politics and marriage. I was glad to see her enthusiasm left quite a mark in spite of her medical condition. My condolences to the family.

~

Marcus Theodore,

Salt Lake City, Utah

Unforgetable.

~

Ray Hartle,

Salt lake City, Utah

January 18, 2009

I have many fond memories of Cathi in Jr. High & High school, she was such a wonderful friend to me and I will always cherish the fun times we shared. My thoughts and prayers are with her family in this time of sorrow.

~

Georgia (Beilfuss) McKee,

San Diego, California

January 18, 2009

Memories of the fun times at Skyline High come flooding back. Cathy will always be a teenager to me. My thoughts and prayers are with all surviving family members.

~

Judy (Pearson)Rozelle,

Yakima, Washington