Olympus & Skyline High Schools


CLASS OF 1963
In Memory
Becky Tedesco Auer (Skyline)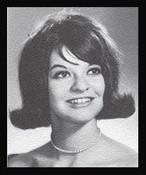 REBECCA ANN "BECKY" TEDESCO AU ... 08/21/1998
Salt Lake Tribune
Types:
Utah
Published:
08/21/1998
Page:
A18
Keywords:
Obituaries
Rebecca Ann "Becky" Tedesco Auer
Becky Auer passed away at her home on August 19, 1998.
Born on August 30, 1945 in Salt Lake City, Utah. Becky grew up in Holladay, Utah. After graduating from Skyline High School, she attended and graduated from Holy Cross Nursing School in 1971. Becky then dedicated her professional life to helping others beginning as a surgical nurse at Holy Cross Hospital and later at Scripps Memorial Hospital, LaJolla, California.
Becky married her best friend and caring and compassionate husband, Joe Auer on August 31, 1979. With Joe, Becky lived in Salt Lake City, Seattle, San Diego and returned to Salt Lake City.
During the last few years, Becky worked at the Salt Lake Shriner's Children's Hospital caring for children from throughout the West and other parts of the world. She was an active volunteer in the Cancer Wellness House and worked to relieve and reduce the suffering of others. Recently, Becky and Joe had dedicated themselves to the beliefs and teachings of Zen Buddhism.
Besides her husband; Becky is survived by her mother, Dorothee Barker; her father, Gene Tedesco (Vicki); her sister and brother-in-law, Nancy Sharp Gesas, and E. Barney Gesas; her nephew, Tommy Sharp; her step-children, Joe Auer, Anthony Auer, Hannah Melvin (William), Madelene Auer; three grandchildren; and various aunts and uncles.
Becky touched all who knew her as she provided her warm and unique ways of caring for others including the doctors, hospital staffs and patients, whose lives she touched.
The family suggest donations be made to the Cancer Wellness Center in lieu of flowers.
A memorial service will be held at 11 a.m. on August 22, 1998 at Lake Hills Memorial Mortuary (10055 S. State, Sandy). Friends may call on Joe and the family at 10 a.m. prior to the service.