Olympus & Skyline High Schools


CLASS OF 1963
In Memory
Duncan Macdonald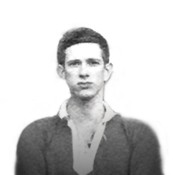 Duncan Macdonald
Duncan Burton Macdonald, age 33, died December 1, 1978.
He was born July 1, 1945, in Columbus, Ohio, to Robert and Mary Wiggenborn. Duncan graduated from Olympus High School in 1963 and attended the University of Utah, emphasizing his studies and research projects with the School of Engineering.
Duncan was an accomplished mechanical engineer with a gifted mind for innovation and invention. For the past eight years, Duncan also had a sincere interest in the securities field, working for and with a number of Salt Lake's securities firms. For well over ten years, Duncan had been designing, engineering and building a unique computerized mechanical manipulator - he and his many friends referred to it as "The Robot." Hopefully, the many institutions, experts, and friends that supported Duncan with this project will be able to help Duncan see it through to the vast practical applications Duncan felt possible.
Duncan is survived by his parents in Newtown, Connecticut; his brothers Douglas of Salt Lake City and David of Newtown, Connecticut; his sisters Josephine Matlock of Rome, New York, Margaret Stewart of Mapleton, Utah, and Alice Tyrrell of Salt Lake City.
Funeral services will be held Tuesday 1 p.m., at St. Mark's Cathedral, 231 East 100 South. Interment will be at Wasatch Lawn Memorial Park. The family requests that flowers be omitted. Funeral directors will be Neil O'Donnell Mortuary.
The family and friends are desirous of a scholarship fund in Duncan's name at the University of Utah Graduate School of Engineering. Please send contributions in care of Stanley S. Adams, Suite 1004, Boston Building, Salt Lake City, 84111.