Olympus & Skyline High Schools


CLASS OF 1963
In Memory
Michelle Eason (White)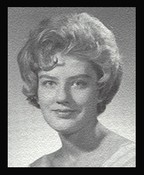 Michelle E. White/ Craig F. White December 17, 1983
Michelle Eason White, 39, and her son, Craig Franklin White, 12, died December 17, 1983 as a result of an automobile accident.
Michelle was born November 21, 1944 in Lehi, Utah to Dr. George E. and Beth Anderson Eason. She lived most of her life in Salt Lake City. Graduated from Olympus High School. Was a Sterling Scholar, won honors in dramatics. Attended BYU. Married Kenneth F. White August 19, 1964 in the Salt Lake LDS Temple. Was active all her life in the LDS Church, held many positions in all auxiliaries of the church, with special talents in teaching and dramatic arts. Michelle was an exceptional mother, daughter, and sister and was loved by all who knew her. Her life was spent in service to her family and others.
She was the mother of five children, four of whom survive: David, Tonya, Eric, and Ryan White. Also surviving: Husband, parents, brother, Dr. Richard Eason and sister, Adria Chavis.
Craig Franklin White was born February 10, 1971 in Salt Lake City to Kenneth F. and Michelle Eason White. He was a very special boy. Active as a boy scout and held the office of a Deacon in the LDS Church at the time of his death. Was also very active in athletics.
He is survived by his father, Kenneth F. White, and brothers and sister, David, Tonya, Eric, and Ryan White. Also survived by grandparents M. Kenneth and Ada Sparks White, and Dr. George E. and Beth Anderson Eason.
Funeral services will be held Wednesday, December 21, 11:00 a.m. at the South Jordan 12th Ward, 2450 West 10400 South. Friends may call Tuesday, 7-9 p.m. at the Larkin Mortuary, 260 East South Temple, and Wednesday at the ward one hour prior to services. Interment Wasatch Lawn Memorial Park.