Olympus & Skyline High Schools


CLASS OF 1963
In Memory
Max Hobbs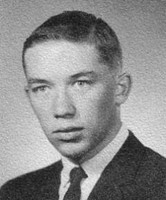 Obituary: Max LeRoy Hobbs
Max LeRoy Hobbs, 56, died July 6, 2002.
Born Aug 16, 1945 in SLC, UT to LeRoy "Roy" and Lucille Putnam Hobbs. He was born at the end of World War II and was said by his mother to have brought light into the world. He was raised in Holladay and graduated from Olympus High School in 1963. He served a mission for the LDS church to the Andes Mission. When he returned he continued his education at the U of U. He worked as a ski instructor much of his life at the Park City and Deer Valley Resorts. He loved to travel the world, but after buying his first horse he changed his mind and found some great trails here in Utah.
He is survived by two daughters, Keelee Leuluai, Kenielle Kearl; and three grandchildren.
Many thanks to his friends and neighbors for their continued love and support during this long illness.
Services will be Tues. July 9, Park City Stake Center, 2300 Monitor Dr, 11 am. Viewing for family and friends will be 10 a.m. Interment, Woodruff, UT.