Olympus & Skyline High Schools


CLASS OF 1963
In Memory
Janice Riddle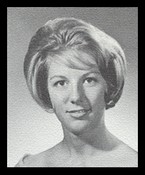 Janice Louise Riddle March 13, 1965
SLTribune, March 15, 1965
Landlady Details Events Before Y. Girls' Deaths
Vienna (AP) Mrs. Irene Williams , Vienna, owner of the apartment in which two Brigham Young University girls died early Saturday of asphyxiation, gave a detailed account to police Sunday of events leading to the tragedy.
Janice Louise Riddle, 19, daughter of Mr. and Mrs. Merwyn D. Riddle, 4335 Hermosa Way, Salt Lake City and Audrey Ungerman, 20, daughter of Mr. and Mrs. Reid Ungerman, Orem, Utah, moved into the apartment Friday night, according to Mrs. Williams.
"I showed them around and told them to feel right at home," Mrs. Williams told police; "then I left them and moved to my sister's place. On Saturday I thought I should phone them and ask how they were getting along, but there was no answer."
"In the evening, I decided to drop in, and when I rang the doorbell, there was a faint smell of gas coming from under the door."
Police said Miss Riddle and Miss Ungerman came to Vienna Friday to attend a Church of Jesus Christ of Latter-day Saints meeting with other members of the group.
Police said their investigation showed milk which the girls had heated on a gas stove in the kitchen apparently boiled over and extinguished the flame.
The gas quickly filled the room, the investigators added, and the girls were overcome and perished.
Janice Louise Riddle was born Aug. 18, 1945, in Coral Gables, Fla. She attended elementary school in El Cerrito, Calif., and graduated from Olympus High School in 1963. She was a National Merit Scholar. Survivors, in addition to her parents, include a brother, Lawrence, 17, at home; a grandmother, Mrs. Gladys Smith, 150 No. Main; and a grandfather, Edgar Riddle, Gerber. Calif.
Audrey Ungerman was born Jan. 31, 1945. She graduated with honors from Orem High School in 1963. She was an active member of the Orem Third Ward, where she served as a Sunday School teacher.
Besides her parents, she is survived by three brothers, Reid Grant, 1079 E, 5335 South; Peter Garth, Montrose, Colo., and Don Lynn, Orem.
Funeral services for Janice Louise riddle will be held Monday [March 22, 1965] at 12 o'clock noon in the Holladay 13th Ward Chapel, 30756 Nila Way. Friends may call Sunday from 6 – 8 p.m. at Curtis-McKay Cottonwood Mortuary, 4670 Highland Drive and Monday from 10:30 – 11:30 a.m. at the church. Interment, Sunset Lawn Memorial Park.