Olympus & Skyline High Schools


CLASS OF 1963
In Memory
Terry Hughes VIEW PROFILE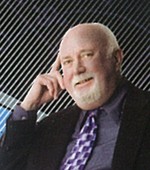 TERRY HUGHES (June 17, 1945 -March 19,2013) was born in the waning days of World War II to two parents serving in the military. His family moved to Bakersfield, Santa Ana, Oahu, and Iwakuni, Japan, then finally back to Santa Ana after the Korean War ended. Terry's father earned a pilot's position with the fledging Federal Aviation Administration and was transferred to Salt Lake City, where Terry graduated from Olympus High School, followed by a return to Southern California.
Terry began college at the University of California, Santa Barbara, but in his sophomore year his father was recruited by the CIA and the family transferred to Cairo, Egypt, where Terry studied Middle Eastern history and taught ESL at the American University of Cairo. Terry returned to UCSB as a junior and eventually obtained his degree in history, with a minor in film.
Terry remained in Santa Barbara for several years, beginning to write novels and designing homes and buildings. He became Chief of the Paradise Volunteer Fire Department, helping to found it when the infamous Painted Cave Fire, set by an arsonist in 1990, destroyed over five hundred homes. The first incident in Burning Paradise, Terry's first novel, was based on the actual Painted Cave Incident radio transcript. In 1994 Terry moved to Spokane, Washington where he lived until his passing. At the time of his death he was gathering research for a non-fiction book a sensational murder in Washington and alleged police involvement. He is survived by a son Taylor and a daughter Ashleigh, both of whom live in the Spokane, Washington area.
Before our 40th Reunion in 2003, many days and many phone calls were devoted to locating Terry. Turned out David Burnett knew where he was all along, probably because Terry had directed David's unsuccessful 1963 run for studentbody president. Finally, in early 2011 we reconnected, just in time for Ron Scott to edit Terry's first novel Burning Paradise. In turn Terry introduced Ron to Gray Dog Press which eventually published his first novel, Closing Circles: Trapped in the everlasting Mormon moment.
Terry was one of the good guys. He was looking forward to reuniting with us at our 50th Reunion in August (2013). He and other members of the golf team -- the late Mike Ruth, Paul Hoge, John Buchberger, and Doug (DJ) Roth-- were the inspiration for a couple of chapters in Ron's second novel (working title: "The Mending"). The book is dedicated to them.
Click here to see Terry's last Profile entry.