Olympus & Skyline High Schools


CLASS OF 1963
What's New


Not a member?
JOIN HERE
Find and click on your name.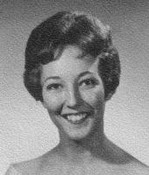 Happy Birthday ole pal! Hope to see ya on your next 'drive through'!
I'm saddened to read this. I remember Elizabeth as a nearby Canyon Rim neighbor during elementary school. For those who do not know, Elizabeth tested out very high in intelligence in the sixth grade. If I remember right she squelched out the then heretofore high scorer when she was able to take the testing a day or two after the rest of were given the opportunity to show our "smartness" stuff. Bless her heart and may she be well remembered.
Posted on: May 28, 2019 at 6:11 PM
I had to open a new FB account because my original account had been hacked. I lost everything; pictures, friends, history, etc. I sent out Friend Requests, but had only about 10% response rate. I can't blame people for not responding as it would look pretty suspicious to me. I mean why would you Friend someone who has already been a Friend on FB. Alas, so goes it. If you'd like to send me a Friend Request, please do. I'm trying to reconstruct my new FB account. Thank you, BB, Seattle, WA.
Happy happy Birthday Teena.
Happy birthday ???????? Crraig
Darnit, had I have only seen this post earlier, I would have been at Bob's memorial service in Totem Lake, Kirkland, WA. My bad.
Bob was a true friend to all of us on this site. I remember him well from our teeage years in Salt Lake City. Always an uplifting spirit, he will be missed by all who have known him, past and present. I've known for some time that Bob has lived in the Seattle area (Eastside communities), but had been reticent to make contact with him. Again, my bad. But, I'm certain that he fought the valient fight against his cancer. He will be remembered as a exemplary spirit who has touched the lives of many throughout the years. His trial by fire has ceased and I'm sure he has moved on to a much better world; one where all strife has been alleviated. Bob, you will be missed.
Hi ?? Yvonne where is your photo? Happy birthday ?? !
Happy birthday ?? Dennis.
Dwight was a true gentleman. I got to know Dwight better after High School. We served together in the 19th Special Forces and I knew him through business. He will be missed. His children and grandchildren were great in honoring him at his services. God speed Dwight. You will continue as a light to all on the other side. Your Mother and Dad and family are greeting you with their smiles and open arms.
Happy happy birthday Rick hope you had a great day today.