Olympus & Skyline High Schools


CLASS OF 1963
In Memory
Sally Cook (Christensen)
Sally Cook Christensen
1945 ~ 2007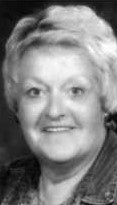 KAMAS, Utah- Our sweet, wonderful, mother, daughter, friend, Sally Lou
Christensen, left her earthly body to return home to Jesus on August 6, 2007,
after a valiant fight with Bile Duct Cancer.

Sally was born June 12, 1945, in Moscow, Idaho, the daughter of Arthur Vernon
and Minnie Belle Cook; married Richard Allen Christensen June 3, 1986. She
graduated from Olympus High School, 1963 before attending beauty college and
went on to become a caregiver and homemaker. Sally spent the last six years as
a dedicated employee of Texaco /Phillips in Kamas, Utah.

Sally taught all of us how to have courage and strength when facing personal
trials and was not afraid to share her opinion with others and fight for what
she believed in. She is now able to dance with her husband and play pinochle
and bridge with her mother.

Sally is survived by her father, Arthur V. Cook; daughters: Kimberly (Paul) and
Brandee (Mike); grandchildren: Bailey, Spencer, Nathan, and Shayla; nieces:
Shae and Julie; and two very special sisters: Carol (Harry) and Janice
(Scott). She is preceded in death by her mother, Minnie Belle Cook, and
husband, Richard Allen Christensen.

A memorial service and celebration of her life will be held Sat., August 11th,
at 10 a.m. at the Kamas Bible Church, 308 N. 100 W., Kamas, Utah. Gerald Van
Buren will be presiding. Interment will be at the Woodland Cemetery, Mile
marker 5 and Highway 35, following the services. Arrangements in care of
Olpin-Hoopes Funeral Home, 435-654-1161
.
Sally's mother was taken by breast cancer and would like any donations made to
go to the Susan G. Kolman for the Cure Foundation at www.komen.org.
888-888-3317, 5005 LBJ Fwy, Suite 250, Dallas, TX 75244
Published in Salt Lake Tribune on Aug. 9, 2007